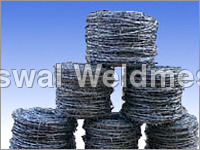 Barbed Wire
Product Description
Barbed Wire

With our enormous efforts, we have been able to mark a reputable position in manufacturing and exporting a qualitative range of Barbed Wire. All these wires are wisely manufactured from high quality of metallic wires sourced from renowned vendors of market. Depending upon the requirements of our clients, we make available all these wires in different sizes and colors. This type of Barbed Wire is used for fencing of stadiums, parks and residential colonies.
Barbed Wire: a special type of steel fencing wire
Today, the demand and need of barbed wire or bob wire is increasing. It can be considered as a special type of steel fencing wire which is built with points or sharp edges. For fencing purposes, Barbed Wire is considered as one of the ideal solutions. At the same time it is easy to operate and is available in the market at cost effective prices. Therefore, it can be used even by a lay man and can also be afforded by people of all classes and categories. This type of wire is used for fencing purposes in many parks, stadiums, railway, highway, airports, factories, government buildings and police stations. At the same time in jails, military installations and border fences, the above mentioned wire is also in great demand and also in great use.
Features
Sturdy structure
Corrosion resistant
Excellent strength
Impact resistant
Gauge

Length (km)

Barbs spacing 3"

Barbs spacing 4"

Barbs spacing 5"

Barbs spacing 6"

12X12

6.0617

6.7590

7.2700

7.6376

12X14

7.3335

7.9051

803015

8.5741

12-1/2X12-1/2

6.9223

7.7190

8.3022

8.7221

12-1/2X14

8.1096

8.814

9.2242

9.5620

13X13

7.9808

8.899

9.5721

10.0553

13X14

8.8448

9.6899

10.2923

10.7146

13-1/2X14

9.6079

10.6134

11.4705

11.8553

14X14

10.4569

11.6590

12.5423

13.1752

14-1/2X14-1/2

11.9875

13.3671

14.3781

15.1034

15X15

13.8927

15.4942

16.6666

17.5070

15-1/2X15-1/2

15.3491

17.1144

18.4060

19.3386